Livingstone, The Publishing Services Division of Barton-Veerman Company
---
About
Editorial—Design—Composition—Self-Publishing—Project Management
The founders of Livingstone, Bruce Barton, Dave Veerman, and James Galvin, worked in executive ministry
positions in Youth for Christ.
In the early 1980s, challenged to begin a publishing enterprise within YFC's ministry, they began the creative
process of developing several books, including Parents & Teenagers and Youth Evangelism, (both Gold Medal
winners) for Scripture Press/Victor Books; Practical Christianity for Tyndale House Publishers, and numerous
guides and meeting plans for youth group leaders. Then began the biggest project of all. In a partnership between
YFC and Tyndale House, Bruce, Dave, Jim, and Ron Beers (now of Tyndale House) created a study Bible that would
go with The Living Bible text. After several years and thousands of hours of hard work, the Life Application Study
Bible was published in 1988, and, at the same time, Livingstone was born.
That was 30 years ago. Livingstone grew and has completed over 280 specialty Bibles and more than 600 trade
books, devotionals, gift books, and curriculum products. Bruce and Dave continue to guide the company, now
Barton-Veerman Company, in meeting the goal of helping publishers get their ideas to the marketplace. Ashley
Taylor serves as the Production and Composition Director; Linda Taylor serves as the Editorial Director; and Larry
Taylor serves as the Design Director. Livingstone also uses with writers, editors, designers and typesetters who are
at the top of their professions.
Through these three decades, Livingstone's products have won dozens of publishing awards.
Livingstone is named after the famous explorer, David Livingstone. The founders believed he captured the heart
and essence of their personal vision—to mark new territory, explore new vistas and serve people, while advancing
the Good News of Jesus Christ. This founding vision is still central to Livingstone's DNA and culture today.
Our nuanced insight is key to gaining people's attention, engaging their minds, and touching their hearts. That's why publishers trust Livingstone.
Wherever ideas are happening in the global publishing world today, you'll find Livingstone ready to help you create strong branded experiences that build relationships with your audiences, in whatever way they encounter your quality content. We offer help with:
new product development
creative design
editorial services which include

c

reative writing

copy editing

C

omposition

project management
Our ideas produce quality products and branded experiences that are distinct, memorable, and measurable. As an idea house for publishers, this is what sets Livingstone apart—informed, big ideas and creative production that build relationships between your readers, your titles and content, and you.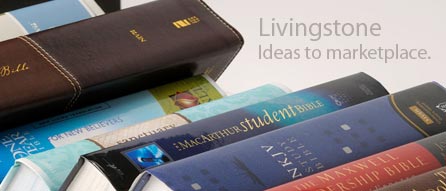 Contact
205 N. Washington Street
Wheaton, Illinois 60187
United States of America